Legacy Society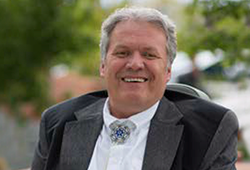 Leaving a Legacy
"My life is a blessing. I have been fulfilled by seeing challenges as opportunities to become a better person tomorrow than I am today. My greatest joy was providing and caring for my wife, Jocelyn. Now that she is gone, I have chosen to express my gratitude for a great life and give back to the community by helping kids—kids are our future. I can only imagine how many lives will be touched with my planned gift to Salt Lake Community College."
-- Chris Gardiner
Legacy Society member
THE SLCC LEGACY SOCIETY
The Legacy Society is an extraordinary group of philanthropists committed to ensuring that Salt Lake Community College remains a community anchor in higher education excellence for future generations.
SLCC Legacy Society members include all individuals who provide support for the College through life income gifts, wills and estate plans. These individuals share a deep connection to SLCC and vision for building the College's future.
As a Legacy Society member, your gift matters. Thanks to committed benefactors like you, our diverse student body will continue to have access to higher education and therefore the opportunity to become contributing community members. Your gift will advance the vision and mission of SLCC by supporting endowment growth, scholarships, capital improvements or a host of college programs and student services.
BECOME AN SLCC LEGACY SOCIETY MEMBER
The only qualification is to notify the SLCC Foundation that a gift has been made in your estate plan. There is no minimum gift amount required, we do not request copies of any documents. Qualifying gifts for membership include:
Bequests through a will
Charitable gift annuity
Beneficiary designation in a retirement plan
Gift through a living trust or other non charitable trust
Charitable remainder trust
Charitable lead trust
Remainder interest in a personal residence or property
Gift of life insurance
MEMBER BENEFITS
We would be honored to call you an SLCC Legacy Society member. As a member, you will be honored with a lifetime of recognition with the following benefits:
Your name displayed on the SLCC Legacy Society wall and in our annual report
A certificate and commemorative gift
Invitations to annual recognition luncheon and other events
Subscription of the SLCC Magazine and pertinent mailings
The SLCC Legacy Society recognizes all estate and life income gifts. Listed gift options may allow you to make a more significant gift than you realize, and may provide financial and tax benefits.
Please contact the SLCC Development Office to arrange a confidential consultation. Our planned giving experts look forward to assisting you in making the best possible philanthropic decisions for you and your estate planning goals.
Notify us of your gift